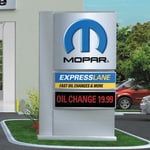 When it comes to the tires and wheels on your Chrysler, you will want to make sure that they stay in great running condition. This is what gives your vehicle a comfortable ride, no matter what terrain you might be going over. At the same time, roads are tough out there. So, you will want to have a protection package to cover you.
One benefit of having a road hazard tire and wheel protection package is that your tires will be fully replaced if a covered mishap occurs during the period of coverage. The full replacement cost of your tires will be given to you.
When your wheels are damaged because of a curb or pothole, you will find that this package covers you as well. There are a host of other road hazards that are covered under this policy as well. When you do need to have service on your Chrysler, Lithia Chrysler Jeep Dodge Ram of Wasilla welcomes you to make an appointment with our service department.