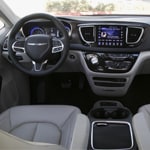 If you're in the market for a new minivan for your family, the Chrysler Pacifica just might be the vehicle for you. The popular Pacifica offers style, comfort and convenience while also sacrificing nothing when it comes to performance and capability. Stop by our showroom in Wasilla to take one out for a test drive today.
Electronic stability control means safer driving in all types of weather, and a specially designed towing system provides extra peace of mind when pulling a trailer. The Pacifica's towing capacity exceeds 3,500 pounds, so you'll never have to leave anything behind.
You're sure to appreciate the Pacifica's estimated highway fuel mileage rating of 28 miles per gallon. If you select the hybrid model, the expected fuel mileage rating jumps to an unbelievable 82 miles per gallon.