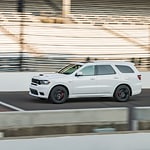 When it comes to three-row SUVs, the Dodge Durango is a popular option with extensive performance features. The performance features of the Dodge Durango enable the driver to have better-towing capability and driving control.
The towing properties might be a critical area of focus for you when looking for a truck. The towing options for the Dodge Durango come in an array of sizes, from a 3.6-liter engine to a 6.4-liter engine, each with a 3-ton and 4.5-ton towing capacity respectively.
On the other side of the performance of the vehicle, the driving control can improve your experience by a substantial amount. The eight-speed shifter in the Dodge Durango is coupled with an electronic T-shifter, which allows a clean transition when shifting gears by using a smart gear selector. Getting a closer look at these performance features can be done by stepping out and test driving a Dodge Durango today.